Zenblen is a start up looking for a mobile app to support it's main product a vending machine that makes fresh healthy smoothies. 
A team of three

My Roles: researcher, user interviewer,
 wire framer, usability testing,asset illustration
Figma
Google Slides
Google forms
Google Drive
Paper Prototyping
Adobe Photoshop
Adobe Illustrator
Procreate
Surveys
User Interviews
Usability testing
Contextual Analysis
Personas
Story boarding 
Affinity Maps
Feature Matrix
Comparative Analysis
Competitive Analysis
Zenblen needs a way to establish a loyal customer base.  They also need to alleviate lines in order to provide a pleasurable experience for the user. 
​​​​​​​
we started by conducting 69 user survey's and from there interviewed 10 users. I went to observed users at similar machines like McDonald's Kiosk.We learned that users were interested in the prospect of the machine but would often quickly delete apps similar to the one were proposing, after getting the sign up bonus.

from there we looked at designing the app around an ordering function intended to shorten lines to the machine, but every smoothie is made when the user gets to the machine not before. so there is no incentive to use the app, ordering function. 7 more user interviews discovered, users would feel slight have to wait. we started to design the rewards system as the major feature.
From there, a paper prototype was taken through 3 rounds of testing and iteration, I was responsible for note taking and conducting 3 of those usability test. these new test added to some confusing with users, how assumed ordering was an app feature. taking the team back to the question of weather or not to include the feature
Zenblen's initial app will include a
pre-ordering function
which will reserve the ingredients for their smoothie.  It will also feature a
rewards program
with both short and long term goals.  Providing the option to
Sign in with their Apple ID
will give users assurance that their data is safe.  These qualities will all help attract and retain a new customer base.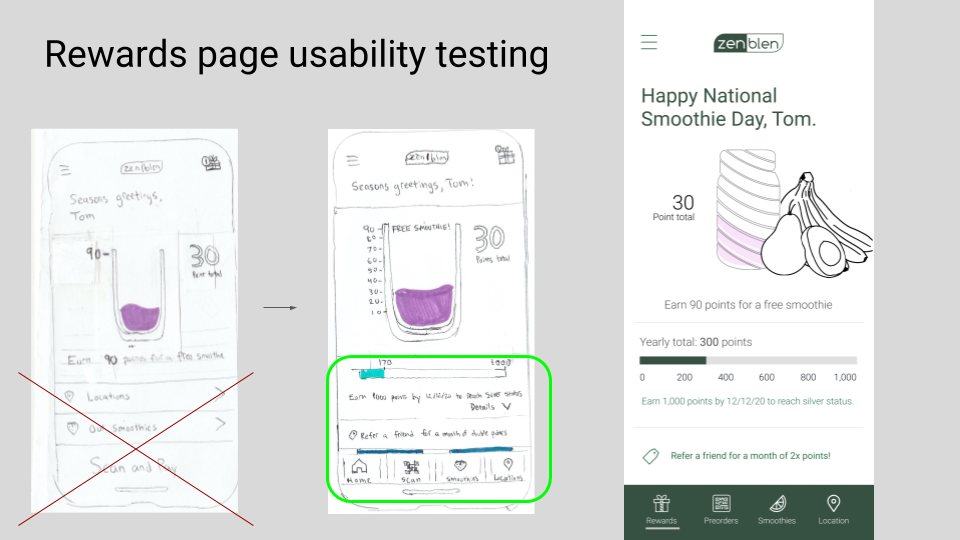 Usability testing with kiosk machine and at boutique gyms
Research workplace, airport, and event space users and environments
Develop rewards tier system 
Optimize for accessibility
because of my skills as an illustrator I was in chrage of deleting all the art that the app uses. 
the evolution of the help screen.
the images live next to the information on how the machine works, and how often it's cleaned.  to add product transparency, which was important to the client and and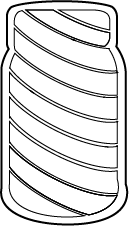 to spite the simple idea the reward jar went through several iterations.